The remote part of the Cyclades in the south east of Naxos is a well-preserved complex of small islands that are definitely worth venturing out to now! Hopefully most of these stay as unspoilt and authentic as they are today.
Iraklia
7am on a hot day and Melissa's front door is again open. Located on the small hill up from the port, this pantry cum coffee shop sort of serves as centre stage for all things local. We've just arrived for a couple of days and as the heat is starting taking its toll on us on the way up the hill, I'm tempted to have an ice coffee. A few locals are already here rambling through the news of the day – the hot weather, the errands they need to run, some gossip from last night. It's all happening.
As Georgia, a middle-aged lady in her 50s approaches, I realise espresso is not an option so I instead opt for a Greek coffee. And in that very moment, I escape the daily routine of the busy life in the city with things you wouldn't otherwise do. The essence of taking a break and enjoying some good time off to the islands.
Neighbours arrive here walking and have their first coffee of the day, prepared by Georgia who is also manning the kitchen. Other locals stop their car outside the pantry's porch, blocking the only street that goes up to the settlement as they pick up a breakfast treat on the go. The pace of life here is slow.
A little while later we're taking the only road towards the south of the island to explore the relatively long stretch of sand of Livadi beach. Some more daring travelers are walking there as its only about a kilometer away from the main settlement. For those that wish to trek a bit further there's also the Tourkapigado beach which also serves as a small dock. It's usually quiet but there's only a tiny stretch of beach.
The next day, dinner is set at a more refined establishment that launched just before the pandemic. We take a table at the backyard, away from the big crowd on the balcony overlooking Amorgos. It's a dimly-lit spot, lanterns above and tasteful downtempo Greek-origin music on play.
Everything here is in place, thought through and cared for to the outmost detail. You ask for a refined tequila and it's served with a small dish of lemon and lime slices. You ask for some ice and it comes in a small, cute enamel frying pan. You ask for their delicious loukoumi trilogy dessert and it's served with a small fork and spoon, for you to decide what's best to use. Perfection! Giannis Koveos is behind the most famous spot on the island with a kitchen that locally sources meat and wine almost exclusively from around Small Cyclades.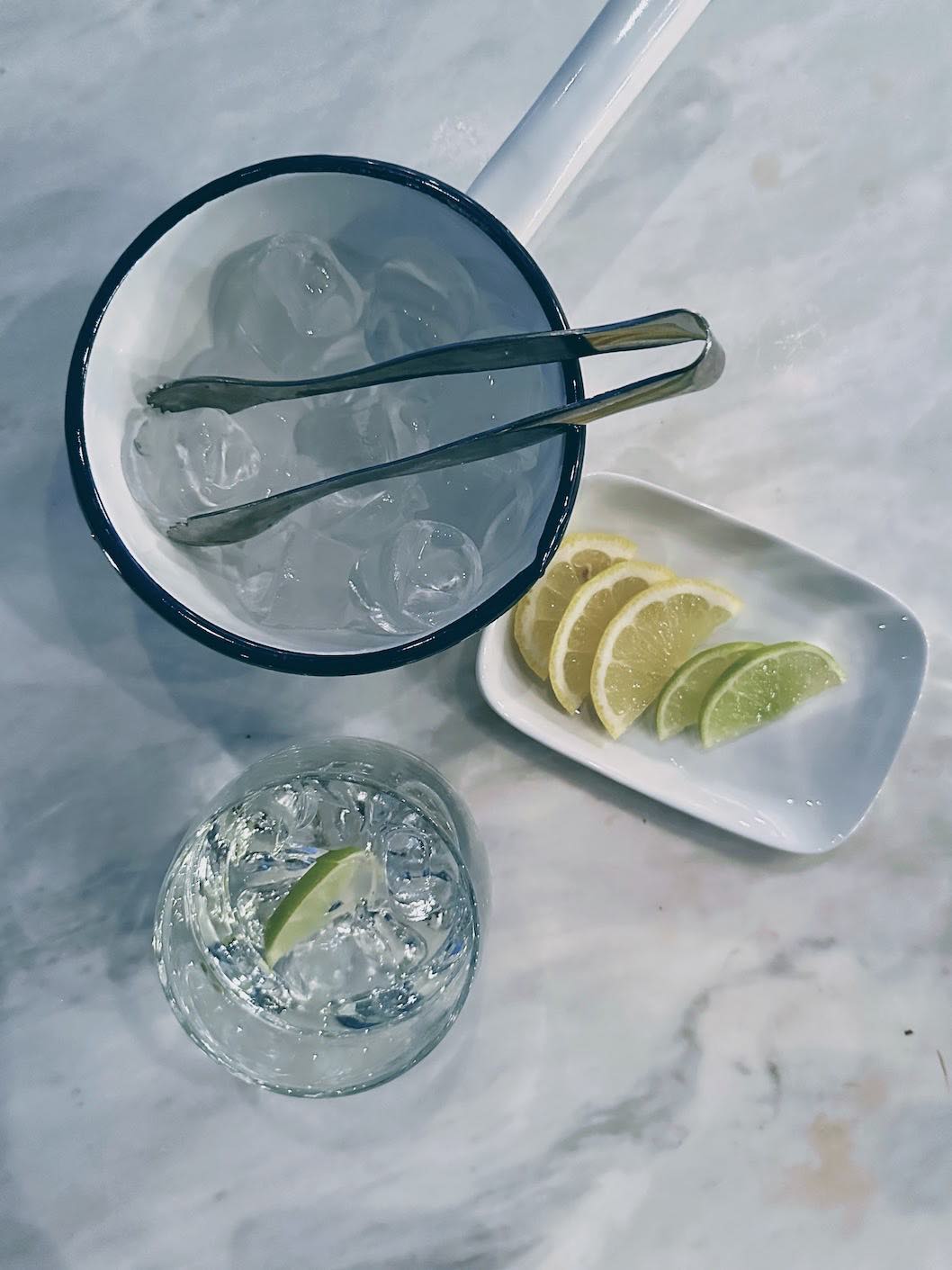 Express Skopelitis is just about the only ferry that passes by Iraklia's port every single day, responsible for providing the island with the necessities of locals. You can catch some of that action if you opt for staying in the main port for a quick dip or a long lazzy afternoon underneath the cedar trees.
Stay
Alexandra's Studios – very nice rooms and very central location. The best you could aim from a rooms to let establishment in a small Greek island.
Swim
Eat/Drink
Araklia – the most refined dining experience on the island. Mouthwatering beef stew in red mavrodafni wine sauce! Only open for dinner with reservation being a must if you visit during peak times. Read our full review here.
Akathi – nice menu and a cool tiny setting on the main road of Iraklia. Also open for lunch. Their fish is also good.
Surfin Bird – mediterranean restaurant, good for a post-beach snack or light lunch. Also nice views to the sea and a downtempo vibe.
Melissa – the best spot on the island if you're into rubbing shoulders with locals. Georgia prepares a hell of a Greek coffee and you can catch all the action if you visit early in the morning.
Maistrali – originally a rooms to let establishment that also offers some basic breakfast options. Nice balcony to sit and unwind in the morning hours.
Schinoussa
When you first reach the island you immediately take note of Nikolas restaurant, an establishment that has been religiously famed for their lobster pasta from those visiting from nearby islands. Schinoussa is a must destination for the avid sailors around the island complex of Little Cyclades as it's called.
As we go up the hill and reach Chorio, we walk along its main alley to be greeted by the locals. A small and relatively quiet place where you see the local hairdresser in their house-cum-salon, a couple of pantry shops (newspapers are only delivered on request) and a handful coffee shops and restaurants.
We finally arrive at Chara, one of the cutest coffee shops in the Aegean, dressed in striking white plastered walls and turquoise window frames. The place has a wooden-top veranda perched next to the main pantry, which makes for the perfect start of the day. A full-on Greek breakfast is served – fried eggs, Naxos aged cheese (insane!), freshly basked country bread, butter and jams- we dig in!
The island is pretty tiny so you can literally walk around on foot if you can bear the heat. As we go down to Livadi beach, we spot a series of tamarisk trees that will keep us shaded for our quick dive. The beach is very peaceful, reminiscent of how once Greek summer was (before it became a major destination for travellers).
Tsigouri beach on the neighbouring bay is also ok for a day under the sun. The beach bar also offers some nice but basic snacks and drinks if you're looking to spend more time. Otherwise you can try Psili Ammos beach (which is kind of a longer drive), better accessed by the sea.
On the early evening, we visit Kira Pothiti for a nice dinner before everyone flocks in. Although the balcony offers some sea view, we opt for the side alley which is more private and mildly-lit. The service is great and the food even better. Although ceviche is not a thing in typical Greek cuisine, they do it relatively well. But some more traditional dishes like the beef stew orzo (giouvetsi in Greek) is insane!
On a different day we try Bizeli for dinner at the infamous Koveos family. They source local produce and offer a basic yet delicious menu, mostly based on meat. Koveos son is tending to the grill at the one edge of the colorful piazza with some traditional Greek music playing in the background – a real treat! Rumor has it, their specialty is a shoulder lamb tagiliatta so keep that in mind when you next visit.
On our last day, we also visit Nikolas for the must-try lobster pasta. They generally offer a great seafood menu and their service is impeccable. One of the best seaside moments one could wish for!
Stay
Ailouros Suites – brand new studio apartments with great sunset views to the port and the sea. Definitely worth the price given the space and comfort they off
Schinoza Luxury Suites – lovely suites equipped with either a jacuzzi or a private pool, also offering a nice view
Theasis Luxury Suites – modern style suites
Swim
Eat/Drink
Donoussa
Donoussa is the more remote of them all but one that is equally serene. Life here revolves mostly around the main port around which you can find cafés, restaurants and a nice bar overlooking the sea.
Gray steep cliffs plunge into the sea creating a spectacular scenery. Historically, the first inhabitants came to the island from the island of Amorgos and founded the village of Stavros where they built the church with its beautiful blue dome an emerald of Cycladic architecture. Near the lovely sandy beach of Kedros, on the sea, one can see t 'pattern of a destroyer ship "Orion" which sank in World War II.
There is a boat called "Donoussa Magisa" which transports tourists to remote idyllic sandy beaches to swim in the crystal clear green-blue sea and enjoy the simplicity at its greatness.
After a morning coffee and a light bite, we take the only road towards the north to find the Church of Agia Sophia that overlooks the beautiful beaches of Livadi (yes, another one in the complex of the Small Cyclades) and Fykio. The former is a longer one and more busy as campers tend to flock the beach during July and August. Fykio is a bit more serene but requires a longer trek. The boat only takes you to Livadi beach.
The bay of Kalotaritissa should also be on your list with three distinct covers that are worth exploring and are right by the main road of the island. At the end of it you'll reach Mitsos taverna where you can unwind with some local treats like their specialty dish of goat lemon stew and french fries.
For a more refined experience, you can opt for Stavros and Avli restaurant which is just about the only elegant food establishment on the island. The menu is quite tight but includes tasty dishes like their spaghetti alle vongole, chickpeas in the oven and their immaculate fish soup.
Stay
Althea Studios – the best accommodation option on the island. Ms Ntina is a greta host and will help you with anything you need!
Swim
Eat/Drink
Koufonisia
As you approach the new port, tens of boats stand still on the turquoise waters of Ammos beach which is about the first thing that catches your eye! The moment you disembark is probably when you realize that you can almost go anywhere on foot – nothing else needed.
We go towards the inner part of the main settlement of Ano Koufonisi, you notice a few local craft shops before you find yourself up on the main alley featuring a few restaurants, cafés and a few locals sticking around. The mornings here are quiet and the streets are filled with bright colors from the bougainvillea trees in contrast with the white backdrop. Most tourists whisk by the local bakery of Giorgoula for their morning take-away treats -try their myzithropitta, filled with local cheese!- as well as tending to last minute grocery shopping at the main mini-market as they leave for the beach.
The trek to the last and most popular point on the island, Pori beach, takes a good 20min on foot but the landscape, views and attractions are unrivaled. First stop is Fanos beach, a busy beac with a small café that you probably want to avoid. Try walking 3min further along the coast to at least get to Italida beach where the crowd is a bit more sophisticated with fewer kids playing around! No beaches on the island are organized but you probably knew that already!
The sun is hot and as you walk towards Pori beach you probably wonder whether there is an end to this long-winded trek. Fret not, next stop is the Piscine Naturelle, a small rock-bordered pond filled with sea water, perfect for a quick dip to cool you off. Further north and some good 250m down the path, one can check out the infamous cave named The Devil's Eye, a hollow rock that fills with sea water from underneath.
If you rather prefer to have lunch closer to the main settlement, you can visit Captain Nicolas' taverna that enjoys a gorgeous view to the sea and offers some tasty seafood bites besides their classic lobster pasta and salad! Just across the street and down the hill, Karnagio is also a traditional Greek ouzerie for those seeking the real experience next to the water in a setting defined by the bright blue wooden tables.
Out and About
One of the main attractions of Koufonisia, is the multiple uninhabited islands in the near vicinity, including Kato Koufonisi. Traditionally a place that calls for some free camping and that is naturally full of impromptu tents all summer long, it also offers a unique experience even on a day trip. Captain Kostas is sure gonna give you a hell of a ride when you leave the main port behind and off to explore some picturesque coves and rock formations along the way to Nero beach. Just remember to leave your camera behind and take in every single moment of it. The loud Greek folk music complements the ride in a perfect and so unique way we wished we'd done it again!
If you're on a private rib boat or otherwise, it's also amazing to explore nearby Glaronisi and Keros, a bigger island next to Koufonisia that is largely occupied only by livestock and their visiting local farmers during the day. One of them is Michalios that also owns a traditional taverna in Ano Koufonisi offering tasty cooked meat dishes directly source from Keros.
See
Swim
Stay
Eat/Drink
Sorokos – the best bar on the island in an idyllic candle-lit setting next to the water; also offers some sophisticated dishes although their highlight is not that. Also serves a very creative and healthy selection for breakfast and brunch!
O Mylos – great view to the sea and an atmospheric/romantic ambience for an evening drink. Also nice to catch the sunset here