When I first moved to New York, I landed in this Brooklyn neighborhood called Williamsburg. I knew nothing about it, except that it was the new trendy area, with a lot of hipsters, and some affordable rentals, quite what I was looking for at the time. To me it sounded like the perfect place to unpack. A year in half later, Brooklyn became my territory, and today I even have to make an effort to leave this district to go hang out in Manhattan! The best way to discover Williamsburg is walking on the Bridge from Lower East Side. Besides being one of the most beautiful views on Manhattan it will give you an overview on Brooklyn, and how huge and resourceful this district is. Reaching Williamsburg you will notice how small the buildings are compared to the island, and you will immediately feel this artistic "vibe" proving you that there is definitely more than just hipsters here.
The main artery of Williamsburg is Bedford Avenue, this street is lined with restaurants, juiceries, thrift shops, and antiques stores. But Williamsburg is so much larger than what most people assume. You have to get off the beaten track, and explore the district from MacCaren Park where is held an organic farmer's market every Saturday, to Bushwick Avenue, and also the East River waterfront from where you can see the most beautiful sunsets over Manhattan.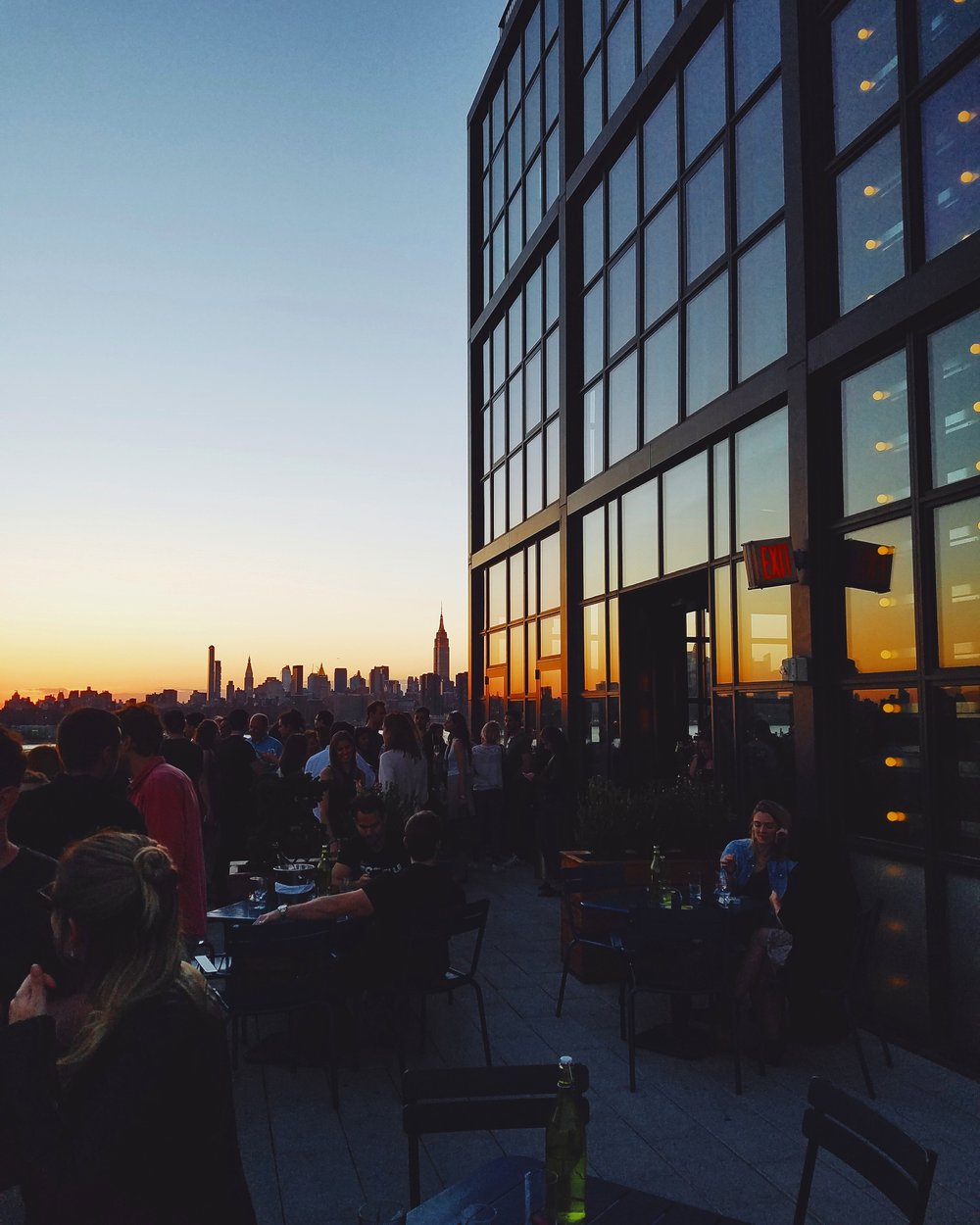 But to me the best part of Williamsburg is that there is always something new to discover. Indeed, from the former factories transformed into eclectic restaurants and rooftop bars, to giant food bazaars during the summer, and organic urban farm next to the waterfront, Williamsburg is definitely Brooklyn's buzziest neighborhood!
See/Do
Williamsburg Waterfront: great place to go jogging or watch the sunset.
Smorgasburg – food-only market happening every Saturday on the waterfront next to the East River State Park.
Rough Trade NYC – renowned record store for great vinyls and live music.
McCarren Park Greenmarket – Saturday market at McCaren Park where you can purchase fresh milk and yogurt, seasonal fruits and vegetalbles, honey and flowers.
North Brooklyn Farms – an urban and organic Farm right next to the Williamsburg Bridge. Every Sunday at sunset, chef Emma Jane Gonzalez offers an intimate, three-course vegetarian meal crafted around produce grown right on the grounds or from partner farms upstate.
Spoonbill & Sugartown Books – cute bookstore specializing in used, rare, out of print, and new books on contemporary art, architecture, and design.
Groceries at Sodaposh – Italian deli. Very simple, rustic and seasonal.
Sprout Home – garden design center selling cute cactus and fresh flowers.
Eat/ Drink
Maison Première – oysters, cocktails, small seafood plates, and beautiful decoration
Delaware and Hudson – this Michelin-starred restaurant features the chef's version of old-fashioned dishes from the mid-Atlantic region.
Loosie Rouge – perfect place for a Sunday brunch in South Williamsburg. Amazing Nutella beignet!
The Four Horsemen – a killer wine list.
Sunday in Brooklyn – amazing brunch and a great rooftop during the summer.
Juliette – French bistro in the heart of Williamsburg, great rooftop too.
Lilia – one of the best pastas I ever had, but very hard to get a reservation!
Le Barricou – famous for its weekend brunch (long wait)!
Concord Hill – neighborhood spot with a vegetable focus, well-priced wine.
Simple Café & Restaurant – French & Algerian cuisine.
Wythe Hotel – the crown jewel of Williamsburg's renaissance, this former factory has been converted into a 72 rooms hotel. But the most amazing place is the "Ides" rooftop and its breathtaking view.
Union Pool – live music, tacos, and a photomaton.
Output – spacious nightclub and awesome rooftop to chill.