I love Astrid Y Gaston.
I have a hundred reasons to love it. But I would offer you a timeless and simple one: it's really, really good.
The food is so good, although the word good doesn't appropriately capture bites that are as comforting as they are decadent, as artistic as they are delicious. The atmosphere is so good, and it would be so easy for it not to be. The decision to be a community hub and a focal point in the city's thriving culinary scene, is not just a choice but also a well intended and well executed one.
I went solo the first time, to try the tasting menu. I had only been in Lima a few days at that point and was still absorbing, but an engaging street food experience the day prior had given me an appropriate enough context for what I was about to eat. I also had great appreciation for the difficulty faced by chefs today: how do you add finesse without removing flavour, especially when the flavour of this cuisine is almost flawless?
The tasting menu is served in the afternoons, in an intimate room with limited seating. I arrived punctually, the Uber having dropped me off at the gates of a palatial hacienda. I'd been up since 4 am due to the time zone shift and I was hungry, I was sleepy, and I was wishing I'd postponed. This is going to cost energy, I thought. All the wine swirling and the sauce tasting; I want to be home in Barranco, order from Rappi and watch Harry Potter with Spanish subtitles.
But Astrid Y Gaston is not pretentious and its not intimidating. It also makes no attempt to pretend or intimidate. It's cosy and inviting and so, so comfortable. Once I was seated, at an expansive warm wood table, I felt like I could stay here for hours. Next time I'll bring a book, I thought. Maybe they'll let me hang out after the tasting, drinking coffee, being happy.
Norca, veteran hostess and beyond lovely person, took me through the menu this afternoon. I was glad of her company, because a tasting menu is a story and you eat it but you also hear it.
We started with a cocktail, which did two jobs: I was now fully awake and properly excited for the rest of the meal. Then began the food: the colourful appetiser trio on a textured white ceramic plate. Corn pancake, potato flower (which was essentially a causa rellena reimagined) and a croquette. The amuse-bouches were lovely to behold and quick to be gobbled, then came one after the other the grouper ceviche, Peking guinea pig and octopus anticucho.
The tiradito that followed was one of my favourite bites of the meal; served with uni in a clam shell, it cemented in my mind the idea that a ceviche may be overrated as a symbol of Peru. This tiradito melts in your mouth, is cool, silky, citrusy and spicy. I was already starting to feel full and there were eleven courses to go. Norca recommended I skip the udon noodles in the uni and nikkei carbonara if I was concerned about running out of room but I couldn't (it was umami and yummy).
The grilled scallop doused in parmesan foam didn't help the tight pants problem. I asked if I could take a little walk halfway through the meal, maybe get a tour of Casa Moreyra (the enchanting historical mansion in which Astrid&Gaston is ensconced). Wine in hand, our sommelier for the day Carlos, guided me into the courtyard.
Casa Moreyra goes back thousands of years. The house itself wasn't built until the eighteenth century, but it's always been something of a community hub. I suppose it shouldn't come as much of a surprise then, that a room off to the left off the courtyard is panelled with pictures of chefs and other members of Lima's culinary community. The name Gaston clicks into place in my brain; this is the same Gaston who was a mentor to Central's Virgilio Martínez (I rewatched the episode that weekend to be sure). The room with the photos is like a living Instagram feed and thrums with energy; Carlos points out Astrid in one of the photos and her radiant smile just leaps out at you.
Back to the table for round two. I wrap the soft blanket Norca brought me (there's a slight chill in the air) and prepare for more food. The next course is an homage to tubers (Peru has over 4000 types of potatoes); there's custard apple in there somewhere and the spoonfuls I ladle into my mouth are homey and pleasant. The one after intrigues: it's grouper in a pachamanca (a Quechua word to describe the traditional earthen Peruvian cooking technique) with an uchucuta (spicy condiment made with rocoto chiles, cucumbers, peanuts) foam. There's a starchy side to to absorb the fish juices but I eat only a few bites (still seven courses to go).
The following protein heavy courses indicate the end (of the savories) is nigh. The shrimp dish I easily skip (this particular crustacean is an acquired taste and I don't think I'm going to acquire it) but the green rocoto (Peruvian pepper) curry with oxtail gyoza and suckling pig (not a whole one, it's a tasting) more than make up for it. My stomach is running a marathon, but it's not complaining one bit.
Desserts are next, which is where I fully feel the presence and magic of Astrid of Astrid Y Gaston. I feel (appropriately) like a kid in a candy store. We start with an adorable little Cecina macaroon (here I'm hoping Cecina refers to the Tuscan city and not the cured meat) accompanied by a melon sorbet with sangria drizzle. Then comes the next and penultimate dessert, only referred to on the menu as "corn, apple and paico aromas" – and aromas you certainly get once the corn shaped cloche is opened. The sorbet (presumably frozen with liquid nitrogen) sends smokey spirals your way. We finish with chocolate, coconut and pineapple, a perfect and pretty end to the meal.
At least I though it was the end. The diners next to me were a two courses ahead so I got a preview beforehand. But its still elicited the excited giggle of a delighted child when a massive box of chocolates was presented to me, and I was asked to try whatever I wanted. If only I had two stomachs. I followed Norca's recommendations and tried a few assortments. The yellow candy encased in cape gooseberry calyces were my favourite, for both taste and ingenuity.
Astrid Y Gaston is remarkable to me because it elevates your experience just as it sets you at ease. This is also an accurate description of Astrid, who dropped by to say hi. It isn't hard to notice a woman's touch in the decor of the room (forgive the shameless stereotyping, Gaston could just as easily be the designer half of the duo). Her entire personality can be felt in the effortless warmth of the staff, colour and attention to detail in the atmosphere and classic craveability of the food itself. We chat a while, and I tell her just as much. She is gracious and switches to asking about me, which makes me like her even more.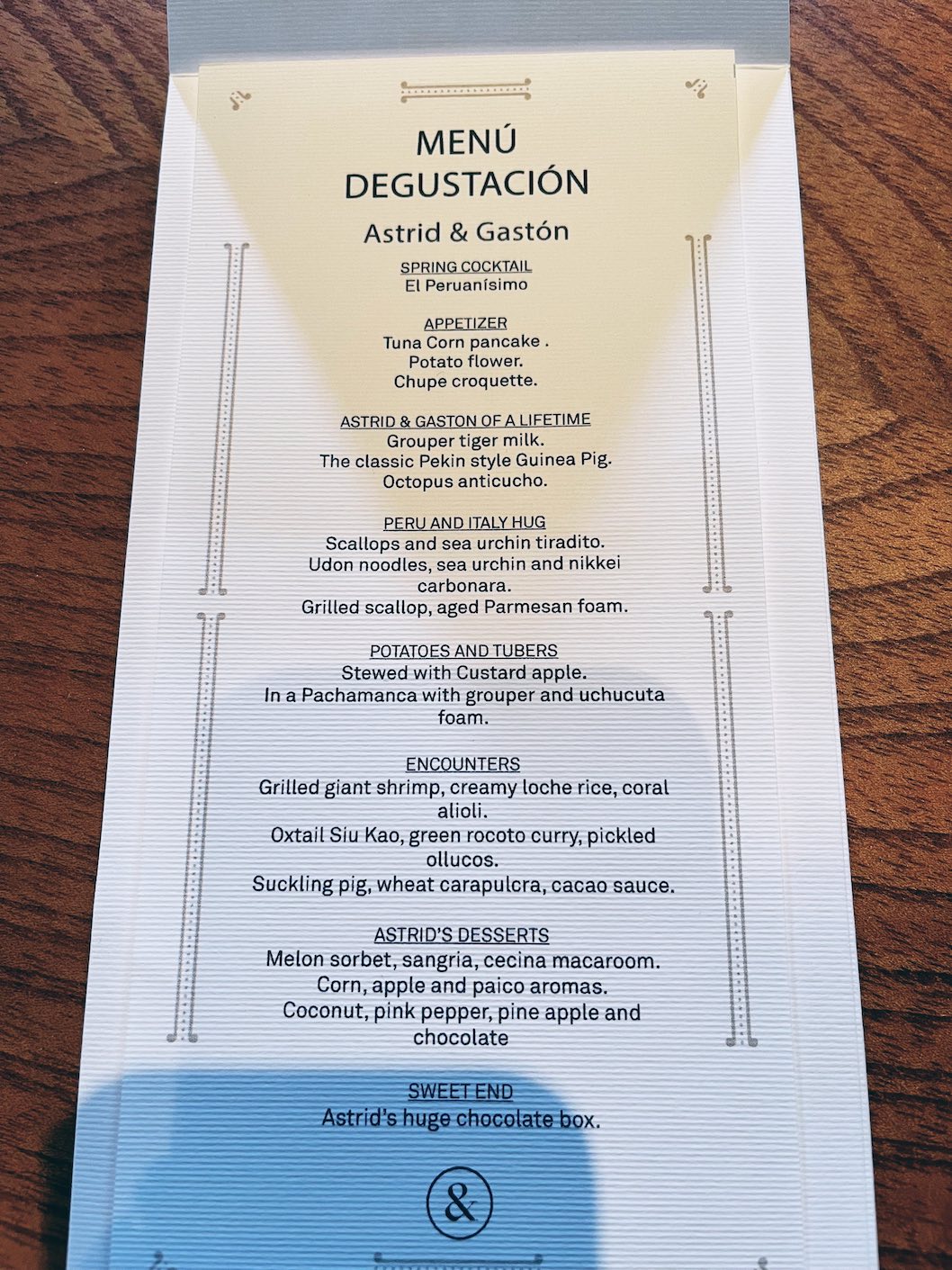 Almost a month later, I drop by before returning to Berlin, (this time bringing my guide from the street food tour along) and she immediately envelops him in a hug just as tight as the one she bestows on me. I order from the regular menu this time around, and get the larger version of the potato flower from my tasting, and a corn pasta dish I'd happily eat everyday. My last meal in Lima is bittersweet because I don't want to leave; I let this slip to Norca, who surprises me with an unforgettable Lucuma dessert. Now I really don't want to leave.
Two months after leaving this culinary wonderland of a city, Astrid Y Gaston is so much more than a restaurant in my memory. It is not surprising that Central's Virgilio Martínez's career took shape while working under Gaston; there is such confident stability in this space. I imagine many a chef in this city has found their voice as a result of the community and creativity that Astrid and Gaston have lovingly curated.
It's almost like the colourful ribbon-spangled tree in the centre of the courtyard is symbolic of this. Food, fun, colour, community, find all that and more at this beautiful and unmissable jewel in Peru's capital city. And if an analogous tree isn't enough to enchant and engage, be reassured that a bar (what else) encircles also this tree and waits rhapsodically for you.