More than a lot has been written by now for the unique location and Antonia's creative cuisine at Thalassaki in Tinos. And despite us resisting the temptation to write about it up to now – mainly because of the overly positive reviews left and right – here's an attempt at painting the full picture.
We first descended to the tiny seafront spot of Thalassaki back in 2016 when prompted by a friend who's almost a local there. I still can remember the peaceful waves of the sea as they were gently hitting the cement deck in front of the restaurant, the sun-drenched faces of foodies arriving in groups of 2 to 4 and a series of colorful dishes around the house. Fast forward to 2019 and the scene is mildly redone in more of a Mykonos fashion. Exorbitant hype around its offering in the last few years has resulted into much higher prices, more proper seating and more poshness around with Antonia Zarpa, founder and head chef, trying to live up to everyone's expectations and at the same time outgrow her own cooking.
The menu, mostly seafood based, is quite lengthy so you'll definitely find something to suit your taste. Apart from their signature side dish of striking white colored lemon-infused taramosalata (aka fish roe salad) and tirokafteri (spicy cheese spread) topped with raisins and coffee beans, you should definitely go for the grilled calamari with oven-baked potatoes, vegetables and herbs. All three involve astounding flavours and great combinations, despite the unusual addition of coffee beans.
In general, although the offering at Thalassaki is quite remarkable (well, high prices aside), most dishes are quite complex. Yes, some are interesting but sometimes simplicity is also key.
Local cheese from Tinos topped with bee pollen and a side of sundred tomatoes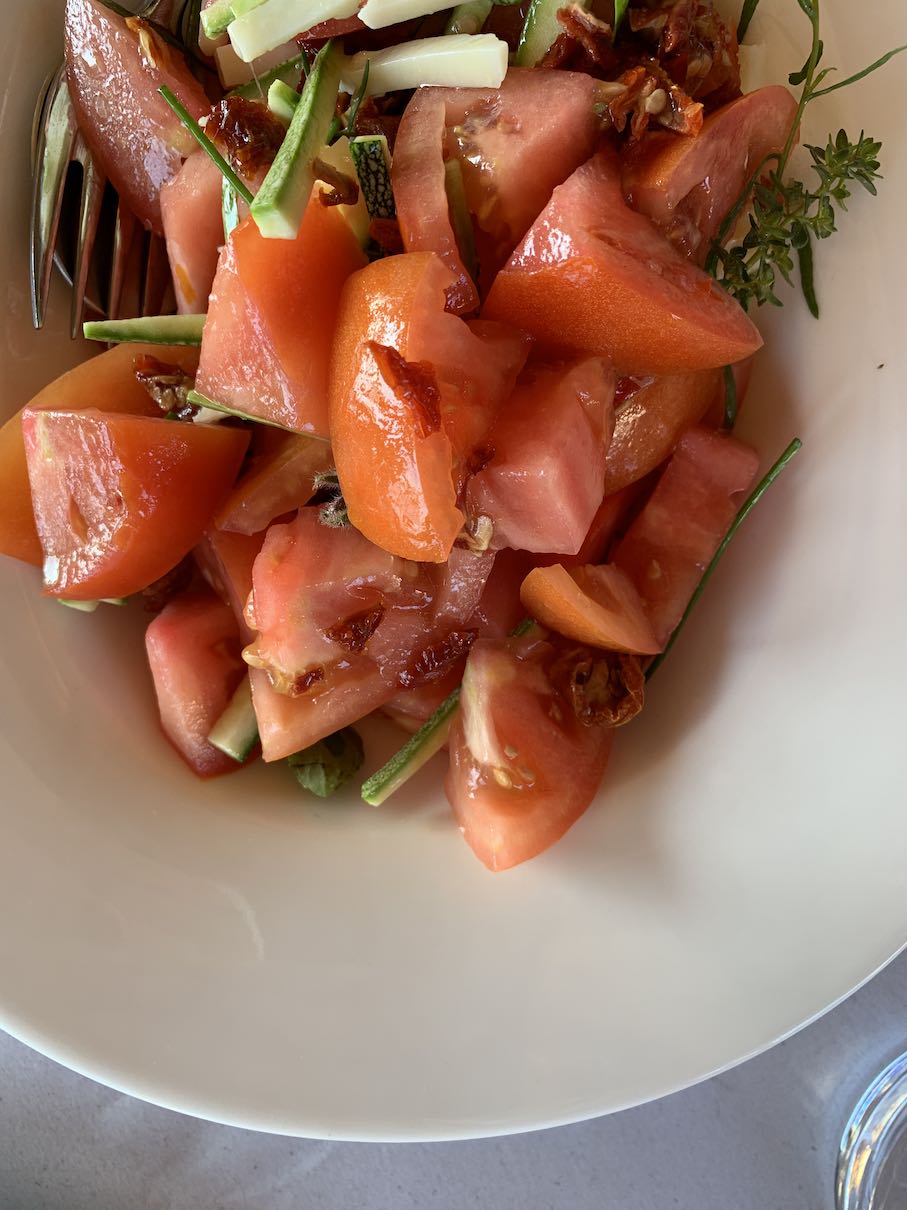 Pomodorini salad with cheese and oil-matured caper leaves
Grilled calamari with overn-baked potatoes, vegetables and herbs
Seafood pasta infused with lemon and butter
Having ordered quite a few of dishes, we're heavy on the wine and keep on gazing at the golden-colored seawaves as the sun goes down. Having arrived (with a reservation) around 6pm, we're almost ready for sunset when desserts arrive – what a delight!
Most dessert should do the trick, although three of them were our favourites: kaimaki ice cream with turkish delight and nuts, meringue with vanilla ice cream, preserved orange slices and crushed walnuts and, finally, chocolate sponge.