I first visited NYC a little more than 10 years ago and was not really excited. A classic over-promise / under-deliver case if you stick to the touristy bit. Little did I know back then… it's now one of my favourite destinations, with so much to experience around, ever changing and ever new.
Back then, SoHo and the Meatpacking district were still in the beginning of their transformation and Brooklyn was still an undiscovered evolution of the initial six small Dutch towns settled in the southern tip of Long Island.
Fast forward 10 years and the vibe has changed so much.
Guggenheim Museum, Upper East Side
Guggenheim Museum, Upper East Side
Hudson Yards, Mid-town
Brooklyn
Having experienced an influx of numerous businesses (think finance and high tech back office teams, entrepreneurs and artists), first in DUMBO and then in other neighbourhoods, Brooklyn has now grown to become the most populous borough in New York (2.6m out of 8.5m habitants). And, yes, housing prices are skyrocketing out there.
So without delving too much into the whole Williamsburg scene of the hip crowd I would keep it simple and note the well attended Artists & Fleas in-doors market on weekends with a sophisticated collection of merchants and stalls. It serves as a good way to digest the delicious Moroccan-influenced brunch and cocktails served at Cafe Mogador two block down the road. Favourite dish? Poached eggs on Moroccan pitta bread and served with a dash of harissa.
Brunch at Cafe Mogador in Williamsburg, Brooklyn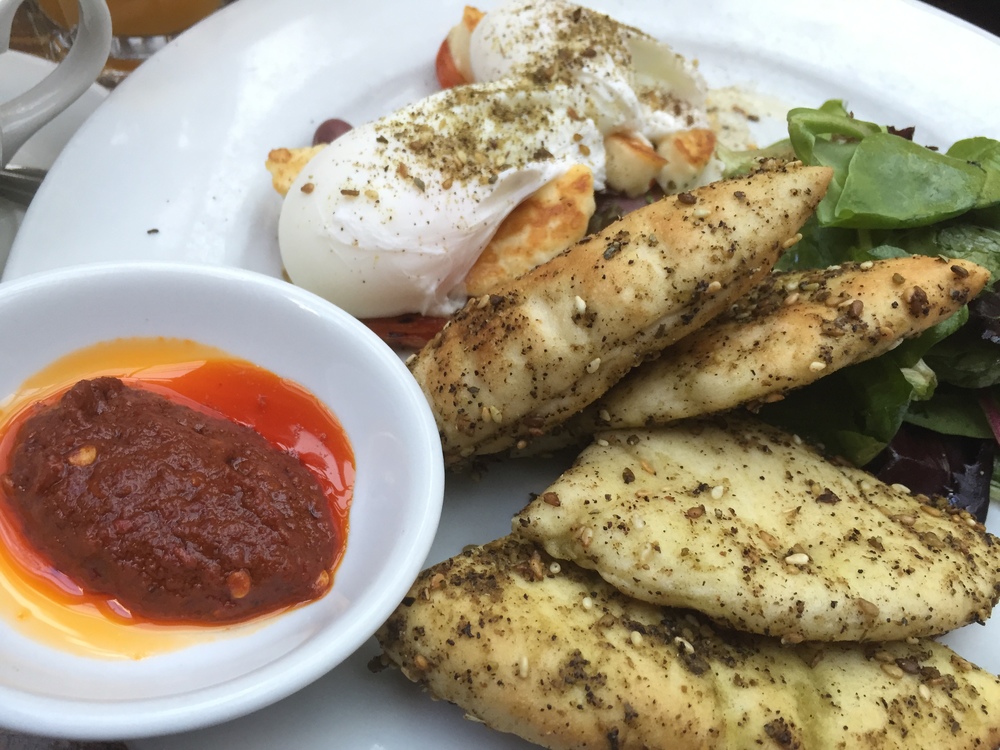 Brunch at Cafe Mogador in Williamsburg, Brooklyn
Vintage records collection at Artists & Fleas market in Williamsburg, Brooklyn
Vintage records collection at Artists & Fleas market in Williamsburg, Brooklyn
Brownstones at Boerum Hill, Brooklyn
Brownstones at Boerum Hill, Brooklyn
Flatiron and SoHo
Torn between the half-posh half-hip ambience of the Flatiron district and Gramercy Park, the area around Madison Square Park is just about right for your overnight stays if you're looking for the full New York experience. Freehand is a great choice for those that are after a homey (yet pricey) kind of option with many good options for a quick bite like Caffe Marchio and Daily Provisions to kickstart your day. If you're after more food, then a visit at Eataly (the full on Italian market and dining place) or Shake Shack (Danny Meyer's infamous burger joint) are also round the corner.
Double shot espresso at Caffe Marchio
Praised as the most fashionable hood from hipsters and yuppies alike, the South Of Houston area continues to attract the crowds especially during weekends. When I'm there I usually wonder around shops on Spring street and the likes, with the occasional visit at the Dean & Deluca outlet and the ever so classic New York street dog from the street vendors. Be brave and try it out (if you haven't already).
When I'm done with the crowds I usually head east towards NoLIta and Cafe Gitane. Hippy and tourist crowds flood this neighbourhood-like joint that serves great coffee and other small bites.
Meatpacking district
These days, all of the meat warehouses have left but the industrial aura still lingers.
A beautiful restoration has taken place in most of the blocks (even the fashion brands located there appeal to a more sophisticated crowd – think Warby Parker and Helmut Lang), The Standard Highline hotel attracts hippy travellers and with the new Whitney museum (designed by Renzo Piano) having opened its doors last fall, this is definitely one not to miss.
And if you're a nature fan, you can always take a detour north, along the old tracks of the West Side metro line that is now home to the Highline park. On your way back, you can exit on 16th street for a quick visit to Chelsea Market – the fish is always fresh and makes for good sashimi. If you're there during the morning don't miss out on a great espresso at Ninth street Espresso and an unforgettable burrito from the Los Tacos cart right next-door.
The new building of the Whitney museum designed by Renzo Piano
The new building of the Whitney museum designed by Renzo Piano
The Highline park
Downtown
9/11 has certainly left a mark on the city and although I never got to see the Twin towers up, close and personal, the newly established complex in the area makes for a nice visit. The World Trade Centre is still in the works with architect Santiago Calatrava working on his signature structure (I wonder if he's ever going to change that style…) and a very touching One World Trade Centre Memorial indicating the void left after the attacks.
One thing I'd leave out though from this tour would be the visit to the top floor of the Freedom Tower. Instead head down to the Oculus for the must-have photo opp of the crowds moving in frantic mode.
Smoke Shack burger at Shake Shack
Burger Joint Cheeseburger at Le Parker Meridien
And the best burger in town by 4 Charles Prime Rib
See
The view from the rooftop of 1 Hotel Brooklyn Bridge
The view from the rooftop of 1 Hotel Brooklyn Bridge
The lounge bar at PUBLIC
Stay
Generally speaking, the more south you stay the better. With Airbnb the options are limitless but if you're looking for great hotels here is our list:
Graffiti in Bushwick
Graffiti in Bushwick
Eat/Drink
Pasta at Café Altro Paradiso
Pasta at Café Altro Paradiso
Laptops out at Devocion in Brooklyn
Laptops out at Devocion in Brooklyn
Sunday in Brooklyn
Meet the cruller – warm, crisp, moist at Daily Provisions
Thumbnail Image: Paul Reiffer