Contrary to popular belief Mexico City, or Ciudad de Mexico, is a safe haven filled with museums, parks and food, mainly tacos, lots and lots of them.
A first glance, driving from the airport, confirms preconceived notions; your surrounding is full of colorful, small and over crowded boroughs. However, once you enter Polanco, the "upscale" neighborhood of the city, you are surrounded by houses that look like they have popped out of an architectural magazine. This borough houses high-end stores from Louis Vuitton to Cartier, and endless food options ranging from street food stands to Michelin star restaurants.
A walk through Chapultepec Park and up the hill to Chapultepec Castle, (how much higher can you go when you are already at 2,200 meters?), is worth every short breath! Completed in 1863, a military academy, house to presidents and today the National Museum of History, Castillo de Chapultepec's garden exposes a vast city covered in trees.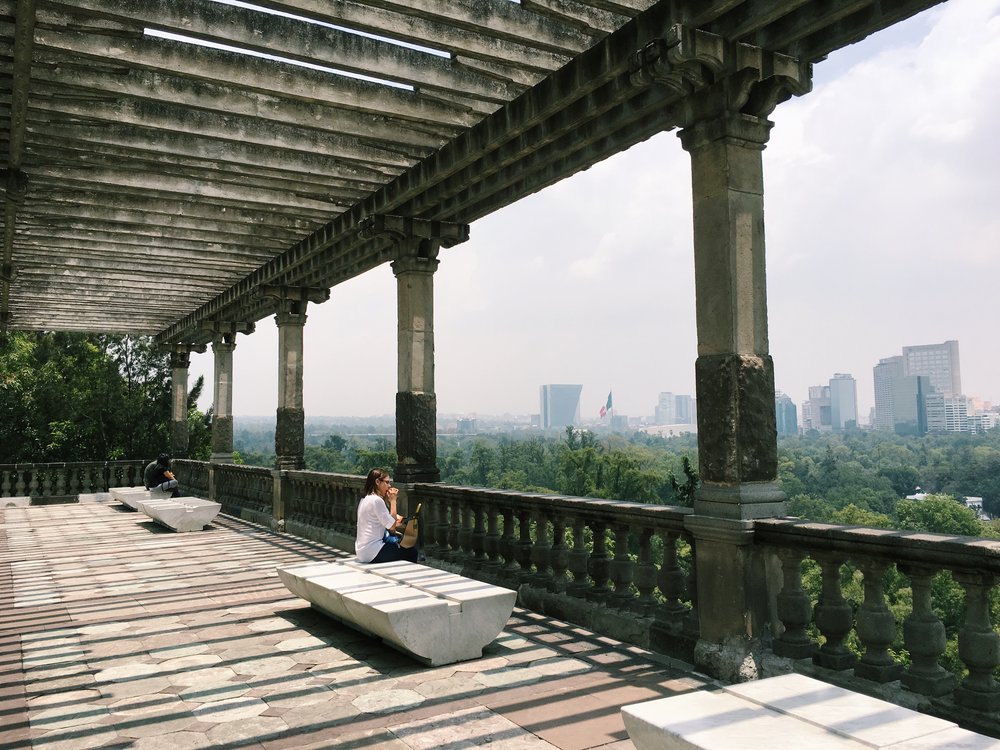 Walk out of Chapultepec to see a giant sculpture welcoming you to National Museum of Anthropology home to more than 600,000 artefacts. Leaving the museum, you will hear the echoes of flute in the distance, follow the music to see the dance of Los Voladores de Papantla, an ancient ritual where the voladores (flyers) clime a 30 m poll to launch themselves into the air, in Parque Torre.
Paraguas Waterfall in Museo Nacional Antropologia
For a quick bite at lunch time or nice dinner at night the area around Parque Lincoln has countless options from traditional Mexican molé at Dulce Patria to tacos and quesadillas at Surtidora Don Batiz, if you go at night look for the secret door that will lead you to the secret mixology bar, Jules Basement, do not forget to sip your mexcal or tequila! After lunch drop by Museo Soumaya and Museo Jumex.
The sightseeing options in the city are boundless. Spend an afternoon in Coyoacan to see Frida Kahlo's house, Casa Azul, walk through Plaza Hidalgo and Jardin Centenario to Mercado Artesenal Mexicano to bring back a piece of Mexico City home with you.
Museo Soumaya and Jeff Koons sculpture belonging to Museo Jumex
With a trip to the Zócalo, largest square in Latin America and a UNESCO world heritage site, you will be overwhelmed by the amount of things to do and see. Around the square is Palacio Nacional, Mexico City Cathedral and Templo Mayor, if you lift your head you will see Torre Latinoamericana, where the observation deck offers a full view of the city.
A short walk from the historic centre will take you to Alameda Central where you can see Diego Rivera's iconic murals, walk in to Museo Franz Mayer, Museo Nacional De Arte or do like I did and admire the iconic Palacio De Bellas Artes. Grab a churro ice cream sandwich from El Moro on your way!
A view from Zócalo and the cathedral
Palacio De Bellas Artes
Hip colonias of Roma and Condesa offer boundless options of modern food markets as well as traditional mercados, art galleries, shops and restaurants. For a treat go to Mercado Roma, grab a paleta (popsicle) or sushi burrito and head up to the Biergarten on the rooftop for a pitcher. For mouthwatering and saucy barbecue go to BAWA BAWA or Porco Rosso.
Pulled Pork at BAWA BAWA
Walk around Avenida Amsterdam, the old horse tracks for the Hipodrom, on to Avenida Colima to for amazing food and cocktails at Yuban, Huset, Blanco Colima or Panaderia Rosetta (you will devour the warm bread basket!).
To go to Teotihuacan Pyramides you can pre book a tour online or go to Terminal Autobuses del Norte and buy your ticket and explore. Climbing the majestic pyramid of Sun to overlook the Pyramid of the moon and the ancient city of Teotihuacan is mesmerizing. Sit atop the hill and enjoy the sun, history and beauty!
Ancient City of Teotihuacan
See
Teothiuacan Pyramids
Chapultepec Park & Castle
Voladores de Popontla
Zócalo
Palacio Bellas Artes
Casa Azul (Frida Kahlo's home)
Museo Soumaya
Angel of Independence (El Ángel)
Stay
Las Alcabas Hotel – luxury boutique hotel located in Polanco, walking distance from shops, restaurants, museums and Chapultepec park. Book an appointment at the Los Alcabos spa for a revitalising massage treat
Condesa DF – located in the hip Condesa neighbourhood, the hotel is in close proximity to the trendiest cafes and art galleries. Enjoy some sushi, or a healthy green juice on the rooftop bar
St. Regis – for those who prefer classic luxury. Ideally located in Paseo de la Reforma in Polanco
Eat
Eno – for mexican breakfast classic chillaquiles, fried egg and cheese with green or red salsa on top of corn tortillas!
Maison Belen – great for croissants and pastries
Contramar – famous for its tuna tostadas
Pujol – Michelin star restaurant does traditional Mexican cuisine.
La Docena – where the locals go on weekends for fresh seafood and great cocktails
Huset – book before you go to enjoy a lovely lunch or dinner in the garden under the story-like lights
Yuban -great cocktails and modern take on classic mexican dishes
Rosetta and Panaderia Rosetta – walk through the wooden doors into the old colonial home to the smell of fresh bread and homemade pasta
Blanco Colima – to eat, enjoy drinks or attend an event all the while feeling like you are home (the one you wished you lived in)!
Mercado Roma: must be hungry! Endless choices from churros to sushi burritos and macarons
El moro: best place for churros, whether you go for the classic with salty caramel dipping sauce or the consuelos (churro sandwiches) filled with vanilla, chocolate or mint ice cream!
Ojo de Agua – go on a hot day to enjoy the best acai bowl
Drink