If you call yourself a foodie traveller then Sifnos is the right place to visit. It is unarguably one of the best islands in the Cyclades that could satisfy all sorts of visitors, from honeymooners and couples, to friends and families.
I have been visiting the island for the past 6 years and I can tell you that no other place makes me feel like home as Sifnos does during my summer vacations. Its beauty, food, people, villages and beaches are only a few aspects that greatly distinguish this island from the others in Greece.
So come with me on this journey where I unveil all my favorite spots and be prepared to add Sifnos to your bucket list for your next summer getaway!
Apollonia is one of the island's villages also known as the capital of Sifnos since 1836. It is built amphitheatrically around three hills surrounded by the villages of Artemonas kai Exambela. Its main path, also called steno, is full of cafes, bars, restaurants and little shops offering its visitors an unforgettable night out.
People walk up and down the steno while Drakakis' old taverna and "Oi treis ksanthoi aggeloi", offering delicious honey dumplings ("loukoumades"), are usually the most crowded places throughout the night… right before the young crowd hits the bars and rooftops! Most bars are open until 4 am, while two after-hours bars become the next stop for the survivors of the night.
When it comes to beaches, the truth is that the island has a small number of them, however no matter what your preference is, you will definitely find one that suits you the best.
Platys Gialos, is a beautiful long shallow sandy beach with a great variety of restaurants for all tastes and budgets. Even though it mostly attracts families, you can definitely enjoy a day on it lying by the beach next to the lively Palmyra bar (great cocktails, snacks and music) until sunset, when patrons shift to a delicious feast on either Omega 3 or Mamma Mia restaurants.
Rabagas features a coffee place, restaurant and art space
Vroulidia beach
In case you're up for adventure you should visit Vroulidia beach, perhaps one of the most quiet and hardest beach to access, with crystal clear waters second to none.
P.S. Did I mention your mobile phone hardly has any reception down there? Let's see if you're up for the challenge.
Sifnos' signature treat: amygdalota
The view from Kastro to Antiparos is stunning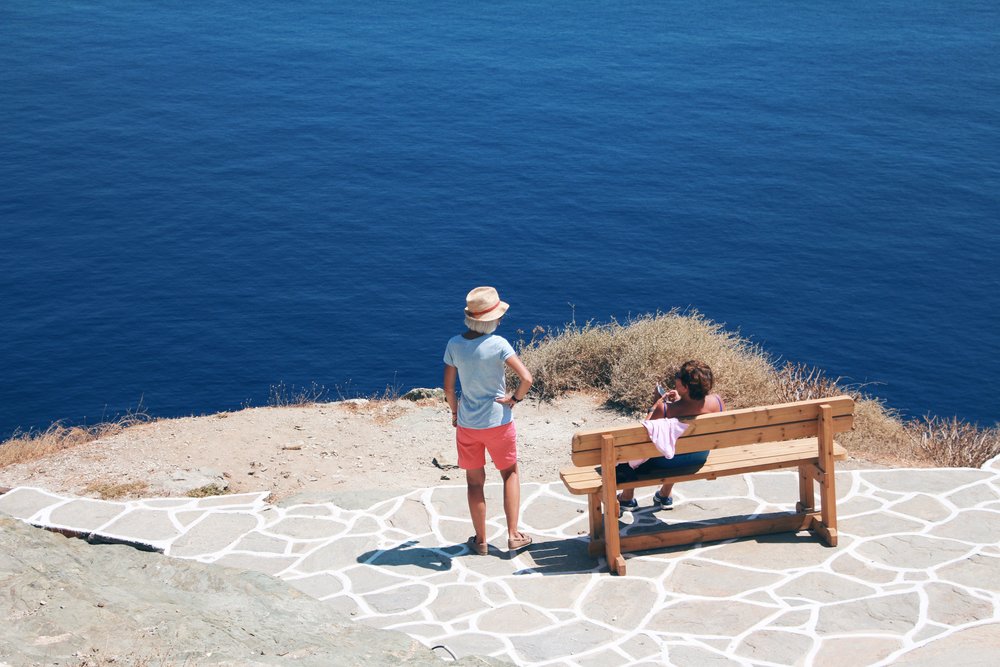 Aerial view of Chrysopigi church
With more than 360 churches and monasteries located on the island, you definitely need to save some time and visit the monastery of Panagia Chrysopigi, built on a torn rock, right next to Apokofto beach. Defined as the most "popular" monastery on the island, apart from the religious aspect, its medieval architecture catches one's eye.
However, if you ask me about my favorite sunset spot, Agios Symeon chapel located high above Kamares has by far the best views you will get on the island. Having been built about 300 years ago, this beautiful chapel helps you find serenity, enjoy the sense of freedom along with the spectacular views of the island and the surrounding islands, even for just a few minutes.
See
Stay
Sifnos House – very cute newly-built boutique hotel at the port, with great minimal Cycladic aesthetics and a very warm hospitality. George, Dora and Pantelis will satisfy all of your requests and will make you want to come back! The hotel also features a small spa. Book with us here.
NOS Hotel & Villas – newly launched boutique hotel. A tranquil hideaway of understated sophistication with elegant rooms and a unique culinary and wellness offering. Book with us here.
Elies Resort – the most luxurious hospitality establishment of Sifnos located in Vathy, away from the busy streets of Chora, Elies is the perfect retreat if you want to enjoy some time off. However, the hike from Vathy to other beaches and Chora too is a bit too much (especially at night). The seawater swimming room is second to none and they also offer great pool service by the way; access to the Vathy beach and some nice nearby tavernas also a plus.
Verina – located in the cosmopolitan settlement of Platy Gialos, Verina Suites offers an upscale experience in earth-tone aesthetics and marble decoration. They also offer another two more high-end options at Verina Astra, in Poulati, and Verina Villas for a vacation home experience.
Swim
Eat/Drink