The days before Easter are perfect for those in lent to start experimenting with new recipes. Along that quest it's hard to come up with new recipes of healthy yet filling choices. Here's the solution for that, and along with it a tasty brown rice favourite!
INGREDIENTS
For the Fesenjan:
1 generous cup almonds or walnuts (I used almonds)
1 medium onion, finely chopped
1/3 c pomegranate syrup/molasses
5 medjool dates, pitted
1 tsp cinnamon
1/2 tsp saffron, dissolved in 1/4 c water
2/3 c vegetable broth (homemade or low sodium store bought)
1 large butternut squash
Olive oil, sea salt and pepper for cooking
For the rice:
1 cup brown rice
2 tsp sumac
zest of 2 – 3 lemons
3 – 4 large cloves garlic, sliced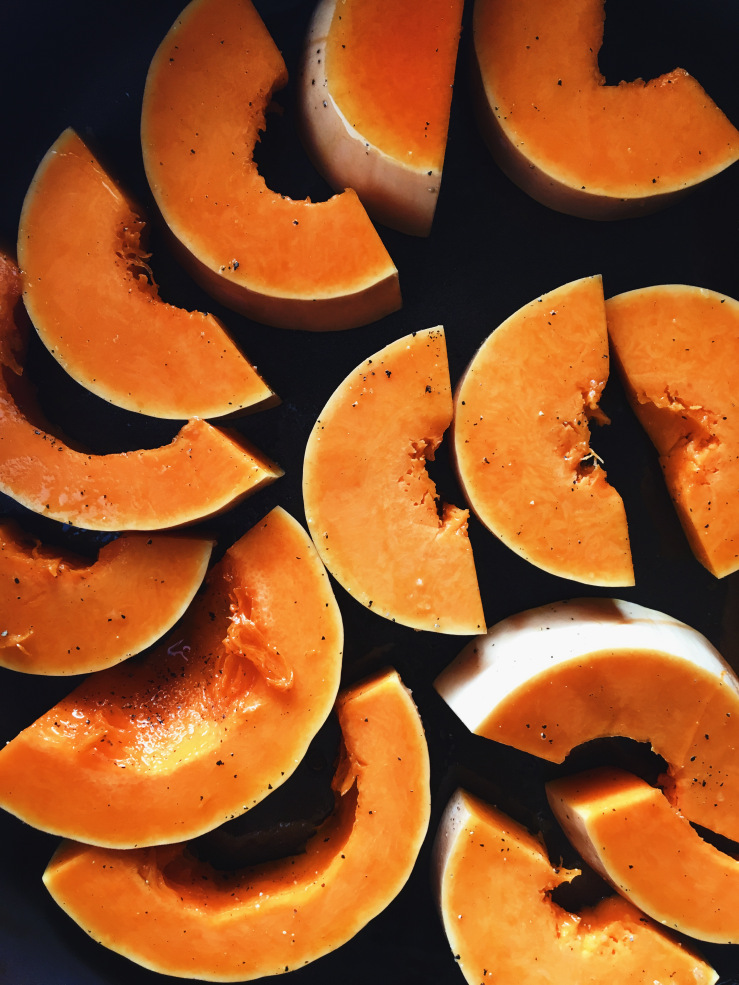 INSTRUCTIONS
Roast the squash: Preheat the oven to 375 F/190 C. Slice the squash lengthwise and hollow out the center. Slice the squash into large slices so you end up with semi circles (see below). Coat with olive oil, salt and pepper and roast until tender, ~20 minutes.
Cook the rice: In a large pot or rice cooker, cook the rice as usual. At the end, add the sumac. When ready to serve mix in the lemon zest and fry the garlic slices in olive oil until browned. Top with the garlic.
For the Fesenjan:
Lightly toast the almonds in a pan. Once cooled, pulse in a blender to make an almond meal/finely chop the nuts but be sure they do not get pasty.
Heat a large pot on medium-high and add the onions with a dash of olive oil, sauteeing until translucent, about 5 minutes. Then add the almonds and 3/4 c water. Bring the heat down to medium and let simmer for about 10 minutes. You can add more water if needed.
In a blender, add about 3/4 of the pomegranate syrup, dates and vegetable broth, and blend until smooth. When the almonds and onions have been simmering for about 10 minutes, to the pot add the blended syrup and date mixture, saffron water, cinnamon, and a generous sprinkle of salt and pepper, and combine. Taste the sauce and add the rest of the pomegranate syrup to taste. You can also add water as needed if it looks dry. Simmer covered on medium-low/low heat for ~30 minutes or until it has reached a thick sauce consistency.
When the sauce has finished, serve with the squash and rice.
Source: Records In The Den / Adapted from NYTimes / Sam Sifton (paywall)