Deverona is an elegant, honest and tasty offering set in the beautiful and more quiet alleys of Naoussa. And for that we love it. And keep on coming back to taste all of their delicious menu.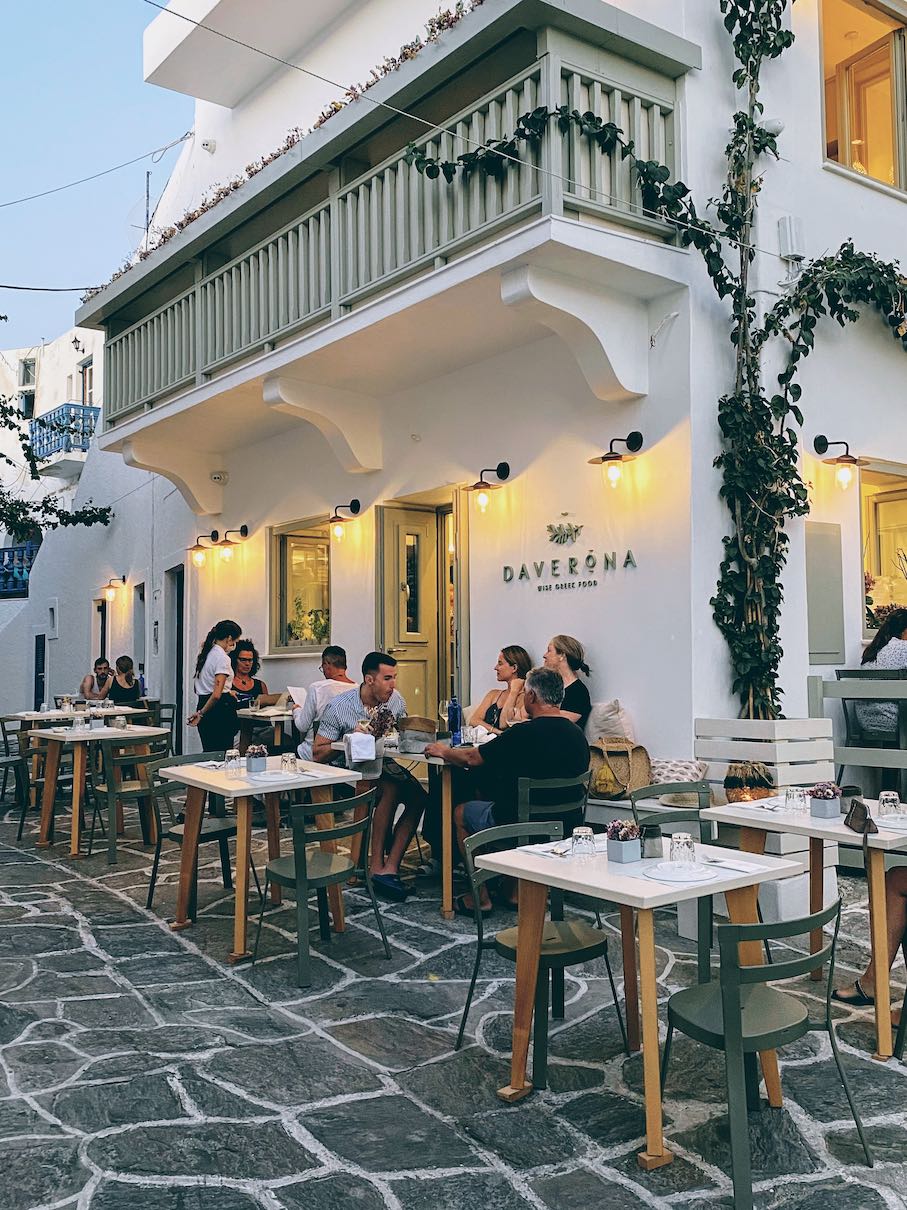 I first found myself there in early summer 2021, a few weeks after they first opened when I was invited by a new friend to try a new female chef. With just 3 days on the island and so many other classic and very good options, I was kind of skeptical before visiting. And although the friend is also part-time chef, I had my doubts. A few hours later and I had completely changed my mind on what seems like a restaurant that will run a very successful course for years to come.
Daverona is the child of a very timid couple that have transformed their grandpa's house in Naoussa into an elegantly-designed two-storey restaurant. The whole concept is quite thought-through, with a great menu and chef Panagiota Daverona that pays great attention to detail.
Being a party of 6, we ordered many starters and salads with some of them really topping our charts: feta cheese puffs (aka loukoumades) with tomato jam and basil, avocado tzatziki spread with lime and potato wedges with mixed cheese cream and bacon marmalade – all three were absolutely amazing!
Everything was timed very well, with service earning also high marks. All waiters, under the owner's supervision, were attentive yet subtle and very kind. As we proceeded to our main course, we welcomed our meat-oriented dishes: smoked pork steak with pickled cucumber and baby potatoes, crispy pork pancetta with peanut butterscotch sauce and parsnip purée and chicken fillet with sun-dried tomato and capers cream. All very tasty with the steak earning full marks.
Last but not least, we managed to try all three desserts. Each of them different with a different texture and taste. We started off with a delicate almond lemon curd and moved to a more hearty mango and passion fruit soup. And finally, we went all in for their profiteroles: crunchy choux, Madagascar vanilla, brownies bites, Tonka cream, grained chocolate and rich callebaut chocolate sauce. Oh sweet heaven!
P.S. A few weeks later we came back and had it all again! Some desserts come into smaller portions too. Everything else tasted exactly the same – well done for consistency- and the service was again super good. Well done!