Mr. Chow or Philippe Chow? If you've been around the States, you'd probably be familiar with the long time legal battle between between Michael Chow (aka Mr.Chow) and his former employee Chak Yam Chau, who decided to open his own restaurant, Philippe Chow, after 25 years of working together.
Even though they may have been fighting over the years over the name of the restaurant and the menu, which is almost identical, we can certainly say that both restaurants have managed to provide their customers with delicious high-end Chinese.
Philippe Chow has been a hotspot of many celebrities and NBA Players for years now, and people just keep coming and coming. The dining rooms smoothly combine the classy and modern design, focused on elegant white tablecloths and low lighting. As for the reason why I prefer it over Mr.Chow is the more vibrant vibe and their better Chicken Satays.
One of the things I love about Chinese restaurants and their mentality is sharing your food or family style, as they call it. It's the best! You get the chance to try out just a bit of everything you order and perhaps order twice what you liked the most. So while you're seated, order one of their delicious cocktails and spend some time reading through their menu. Even though I've visited this restaurant multiple times, I always try to add something new to my order.
Start of your meal with some Szechuan Pork & Shrimp Dumplings, Vegetable Spring Roll or Chicken Dumplings. Regardless of whether you choose some or all, they'll all satisfy your palette. But let's be clear about something….you have to order their Chicken Satays! Despite the fact that its one of their famous dishes, it's very very tasty too. Now if you're a noodles lover try out their Mr. Cheng's Noodles.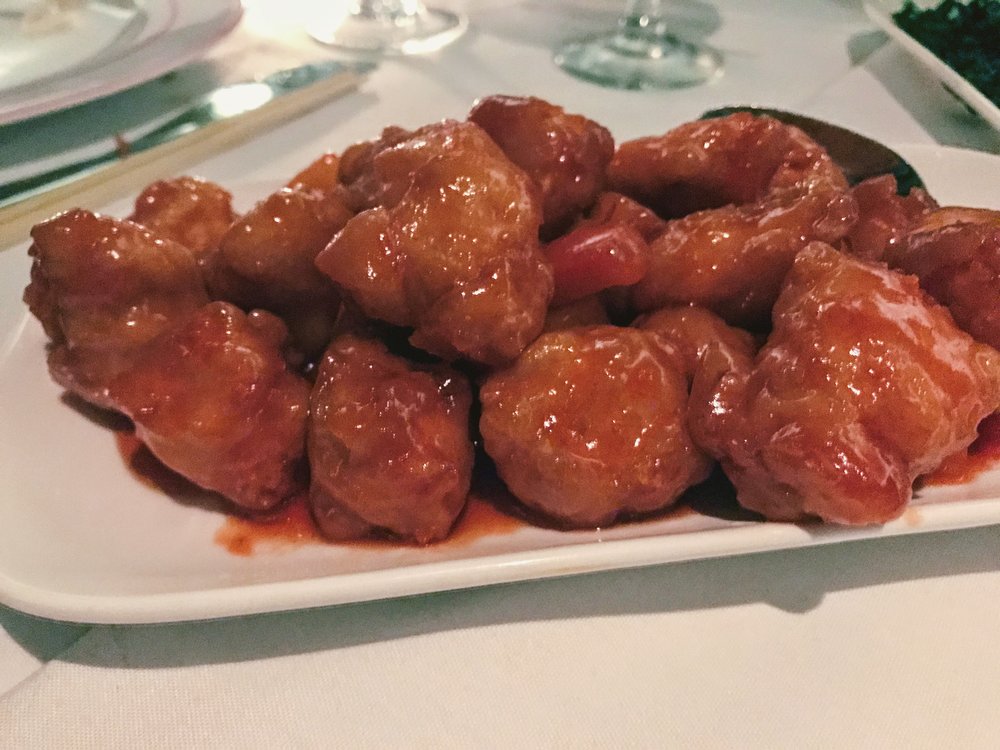 Sweet & Sour Chicken
Moving forward to the real meal, their specialty is Pecking Duck, which I very much enjoy every time, but I wouldn't necessarily insist on just having this dish. Sometimes it's lacking this crispiness that you can get in many other Chinese restaurants in Chinatown.
As for my favorite dishes, these are the Crispy Prawns and Chicken, their delicious and spicy Kung Pao Chicken, while their Sweet & Sour Chicken satisfies the lovers of fried chicken with a rather sweet sauce. In addition, for those interested in some meat, choose the Spicy Pepper Mignon or the House Mignon.
Lastly, get their dessert menu in your hands! Since I'm a Mochi fan I would say you should definitely get a bite. The Fortune Cookie Red Velvet Cake is another choice, but then if you're feeling something more like chocolate, then the Chocolate Molten Cake is just heaven!